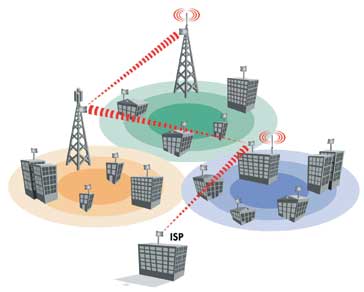 Optimal Value for Business and Office Buildings
In order to meet the growing needs of today's business Internet client, ProTronics has created a wireless Internet service Network. This network offers a substantial cost savings over traditional wired services and gives the customer a greater range of options. These scalable solutions allow for the customer to upgrade service without having the added linear costs associated with adding more lines.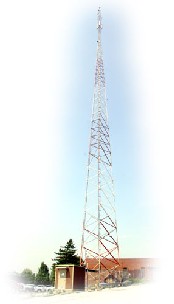 Solid Network Infrastructure
Since PTI owns it's own primary radio tower we have ultimate control of our network without third party dependencies. Because this tower is only used for this purpose, it can provide a full range of Internet products utilizing multiple microwave frequencies. Dedicated point-to-point and multi-point services are provided to isolate customer segments. This allows for access packages from basic small business to full enterprise class T3 style connections.
With over a dozen other secondary tower locations we have brought affordable high speed Internet right to your business. This flexibility allows us to offer a wide range of commercial Internet services from basic T1 class to full T3 class bandwidth at a fraction of the cost of land line based services.
Service Offerings
PTI Networks offers many options to satisfy your Internet needs. Speeds are available from 1.5Mbps symmetric (T1 speed) to over 45Mbps (T3 speed) with extremely low latency. For an even greater benefit PTI Networks can combine wireless technology with our campus and multi-tenant solutions for office buildings and dense service areas.
In addition to first class Internet service, PTI Networks can also provide internal network support to make your connection useful. This means you deal with one company for all your networking and Internet needs.